---
"The music is a powerful, sultry blend of folk and jazz, with a hint of classical sounds," (The Northeaster, MN).
The Poor Nobodys continue to fuse the familiar with the peculiar with their newest album, "Until I uproot and walk again." The latest release by Minneapolis septet "engages with a sound borne of rustic grace and ingenious inspiration," (Twin Cities Daily Planet).
Begin with a solid bluegrass instrumentation, add a layer of Wurlitzer piano, stark electric guitar, haunting female vocals and you've got that gypsy-chamber sound of The Poor Nobodys. Easily characterized as music from a film score, their original compositions weave unconventional melodies through rustic roots, all the while refining a carefully chaotic meter.
The Poor Nobodys are
Chris Hepola (Wurlitzer, Piano, Drums)
Jenna Wyse (Vocals, Accordion, Lyrics)
Chris Duba (Mandolin)
Eric Struve (Upright Bass)
Albert Perez (Electric Guitar)
Aaron Cantine (Acoustic Guitar, Banjo)
Christa Schneider (Cello)
"Epic, yet grounded largely in folk and classical territories, The Poor Nobodys… [are] a varied and multi-dimensional take on the spaghetti-western soundtrack genre as typified by Ennio Morricone – combining this, elements of Chopin, and a strong Americana base yields distinct (and decidedly good) results." – -Sobhi Abdul-Rakhman, Sputnik Music
---
Based on the historical events the movie tells the story of a riot at the battleship Potemkin. What started as a protest strike when the crew was given rotten meat for dinner ended in a riot. The sailors raised the red flag and tried to ignite the revolution in their home port Odessa. Written by Konstantin Dlutskii <ked@falcon.cc.ukans.edu>
Release Date: 24 December 1925 (Soviet Union)
Trivia about the Film: http://www.imdb.com/title/tt0015648/trivia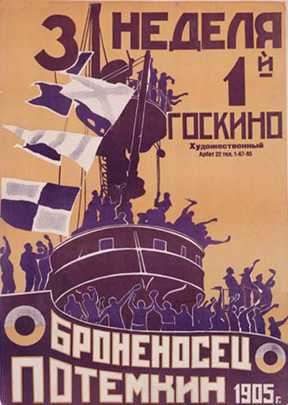 Historical Significance and The film's place in cinema history:
The word montage, in movie terms, has come to mean the compressing of a large amount of real time into a short amount of film time. However, in the early days of the cinema montage was more of a general term for editing, before the likes of Eisenstein made it into a dramatic cinematic effect, where the juxtaposition of images distorted the logic of space and time.
As a result, The Odessa Steps sequence in The Battleship Potemkin is probably the most influential two minutes in the history of the cinema. And the film itself is certainly one of the most celebrated and critically acclaimed, appearing in all six top ten best ever lists compiled by the BFI's poll of international critics. Many modern directors owe a huge debt to the filmmaking skill of Eisenstein; Brian de Palma certainly paid his respects with the station shoot-out in The Untouchables.
Halliwell called Eisenstein: '…one of the cinema giants. Used the camera more vividly and purposefully than almost anyone else.'
(Source: http://www.lesliehalliwell.com/four_star/significance/the_battleship_potemkin_s.html)
---