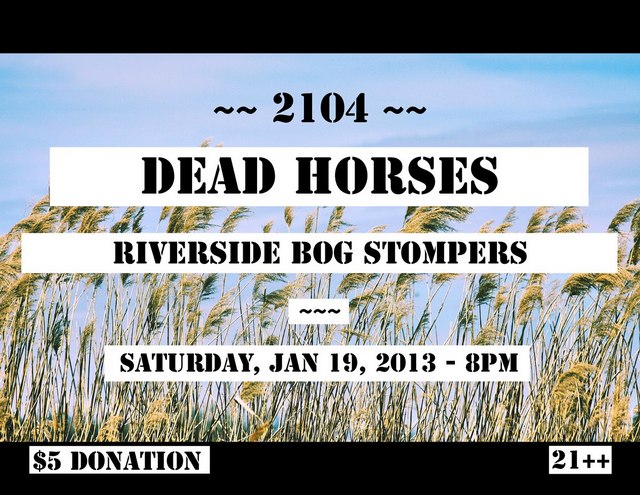 ---
Dead Horses

Self-described as "Folkgrass", Dead Horses are a five piece acoustice group launched in 2010 and hail from Oshkosh. They have just released their first recording (Nov 2012) "Back to Life". Pick up a copy at Electric Fetus, or directly from the band at the show. (Dead Horses on FB)
Dan Wolff - Bass/Vocals
Nick Shea - Mandolin/Guitar/Vocals
Tyler Shea - Guitar/Banjo/Mandolin/Vocals
Sarah Voswinkel - Guitar/Vocals
Tim McIlree - Fiddle/Mandolin/Vocals
Joel Cartier - Harp
Natalie Fores - Chief Sound Technician
Listen to some tracks on-line...
Read more...
---
Riverside Bog Stompers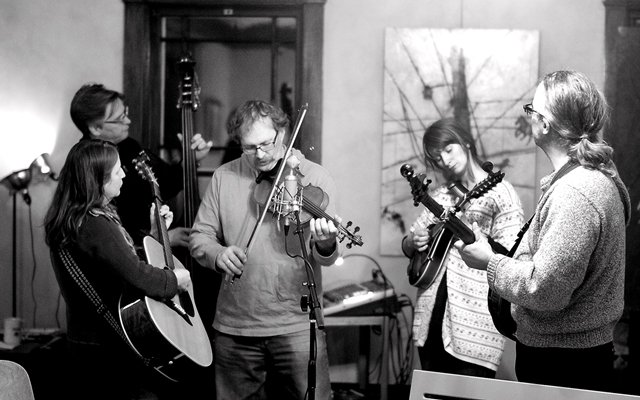 Five-piece bluegrass band based in Duluth, Minnesota.
(Riverside Bog Stompers on FB)
This group started playing together some four years ago during the weekly jam session at Sir Benedict's Tavern on the Lake. Rumor has it that Dave Darnell always played bass since noone else know how... that is... until he invited Mark Laiti to join the fun...
Leah Darnell (guitar);
Dave Darnell (fiddle);
John Bankson (banjo);
Mark Laiti (bass);
Emily Darnell (mandolin).
---
*** This is a 21++ event. ***
As always, we'll have treats and such to share... feel free to bring something to share as well.
---